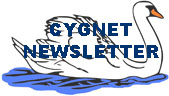 Sign up here
Home
Cygnet Enterprises, Inc. is the largest, single source distributor of aquatic management products in the United States. With offices and warehouses in Michigan, Indiana, Pennsylvania, North Carolina, California, and Idaho you are assured quick access to any product you may need for your lake, pond, reservoir, or irrigation district. Cygnet's main office is centrally located in Flint, Michigan. A large warehousing network assures lake and irrigation managers that they will receive prompt delivery of the products needed to manage our valuable water resources. With access to products from manufacturers including:
We are staffed by individuals that have distinguished themselves from years of experience in the industry. Each location has staff eager to help you with any question you may have. To find the office nearest you click here.
The fact that Cygnet is a complete management company familiar with all aspects of water management means you can be assured that our recommendations are both goal-oriented and environmentally sound. We pride ourselves in being able to meet your goals so that your body of water can reach its full potential. Remember, lake, pond, and irrigation management is our specialty, not just another means of obtaining clients.
At Cygnet, we pride ourselves on our outstanding service, friendly, knowledgeable staff and our unmatched support of the aquatics industry. The Cygnet staff has over 250 years of combined experience in the aquatic industry. No other distributor in the country even comes close to Cygnet's relationship with industry support groups such as the Aquatic Plant Management Society, RISE, AERF and various universities to name a few. Click here for more information about Cygnet's industry support activities.
Thank you for visiting our website. We hope you find it easy to use and informative. If you have any questions or comments please call or send us an email.
Quick Links
Locate a Certified Applicator in Your Area
Water Use Restrictions Quick Guide
Temporary Registered Applicator Program
Propeller New Formulation Large Volume Dispersion Testing
What do global regulatory and research agencies conclude about the health impact of Glyphosate?
When Invasive Plants Take Root, Native Animals Pay the Price
19% Decline in Mean Property Value Where EWM is Present
2,4-D and Endothall Drinking Water Well Study
New Michigan Invasive Species Website
Keep The Trailer Connected to the Truck
The Truck-Trailer Combination Vehicle
D-Limonene: Safety and Clinical Applications
Cast Commentary - Benefits of Controlling Nuisance Aquatic Plants and Algae in the United States (Full Text)
Cast Commentary - Benefits of Controlling Nuisance Aquatic Plants and Algae in the United States (Fact Sheet)
NPDES Abridges Summary of State Contacts and Permit Links
State Final Pesticide NPDES Permits
Phragmites FAQ for Applicators
General Prevention Procedures For Preventing Aquatic Hitchhikers